This weekend wasn't too bad, but I totally sucked at maintaining my gift budget for the entire month. I already increased it and so in total I spent $682.00 on gifts. This includes about 35 people so that isn't too bad. I'm just glad I am done with Christmas shopping and the fun part has begun - wrapping and giving the gifts!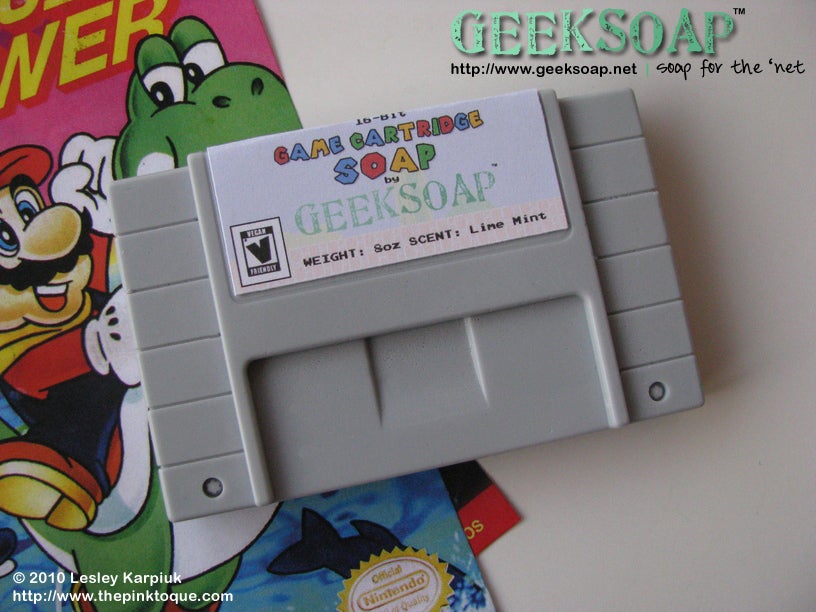 Weekend Round-Up
Gifts (2 geeksoaps, see pic on left) - $11.68
Sat. Lunch for 2 - $26.55
Gifts (Wal-Mart) - $58.29
= $203.41 (not counting the $300 for investments)
Isn't that Nintendo cartridge soap awesome? I bought 2 for my little brother and future brother-in-law. Anyway, I honestly can't wait to start saving again next paycheck. Since I no longer have to buy gifts, I'll just throw it all into savings. Also I know I spent a lot on MAC make-up but I actually saved. A friend's friend was selling MAC make-up for 39.25% off retail price AND tax-free (brand new)! You don't understand, tax is 8.75% here and so my friend bought some items that I've been wanting to buy, but I've never had the guts to spend more than $20 at MAC before. If anyone's interested I got the 129 brush, phloof and satin taupe eyeshadows, and pink swoon blush! Isn't it gorgeous?
Anyway, I spent sort of a lot on myself this month including 2 items at Sephora because I bought some gifts there and I had a coupon for $15 off a minimum order of $40. That's it, no more spending for me this month!
Anyone else end up buying some things for themselves while Christmas shopping?