Happy Wednesday everyone! Today I have a guest post from Jessica at
Mo' Money Mo' Houses
talking about one of my favorite things - eating out. Be sure to check out her sassy yet savvy blog.
Hey! My name's Jessica, I'm in my mid-twenties, I have a degree in filmmaking, and somehow got sucked into the world of personal finance (possibly because I've always wanted to be an artist, minus all the starving). I love baking, shopping, and consider myself something of a somelier of cheap wine. But most of all I love saving money and telling people how I do it on my blog Mo' Money Mo' Houses.
When it's time to pay the bill and you're out with a guy (be it a friend, boyfriend, or some random you met on Plenty of Fish) do you find that the server 9 times out of 10 assumes the guy is paying? Okay, to clarify by "you" I mean all you ladies. But it would be interesting to see who the server goes to for payment when it's two guys. I guess the one who looks the most rich?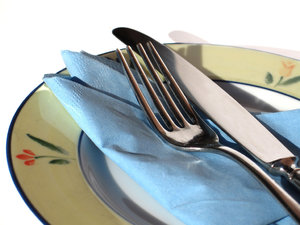 both photos via
Anyways, why I'm bringing this up is that the last few times my BF and I have been out for dinner, even though I put my credit card on the table which quite obviously has my name on it, the server almost always hands the bill over to my BF. Then there's the awkward moment of me telling the server that I'm actually paying, then we all have to force some laughter and I wind up making some stupid joke like "I may be wearing a skirt but I'm the pants" which I immediately regret because it sounds super douchey.
Maybe I'm overreacting over a few oversights made by a couple servers, but come on! I'm an independent lady of independent means. I bring home my own bacon and eat it too! So why is it that when it comes time for the bill, the wait staff don't think I've got my own VISA or a wad of cash in my purse. Well, I don't think I've ever had a wad of cash in my purse, I'm not stupid. Why don't I just yell "Rob me!" out on the street corner.
So, I'm just curious if any of you (ladies) have experienced this too?
-Mo Houses' out!