Happy Monday everyone! You have no idea how excited I am to write this post. The BF and I have been having video game withdrawals since our PS3 burned out last weekend. That's when it donned on me that I have learned so much from playing zombies on Call of Duty: Black Ops. You can play individually or up to 4 players online and there are endless waves of zombies that you and your team have to strategically distract, grenade, blow up, shoot, and kill. If you haven't played before, this game takes a lot of thinking coupled with certain lessons that I thought would be important to take away.
My post today will talk about how this game can be turned into a huge analogy with personal finance. I apologize in advance if I start geeking out like a major gaming nerd, but I'll try to make this as concise as possible. If you have a PS3 or an Xbox or even a Wii, this game is so worth it just for the zombie maps! I do like playing multi-player as well but the amount of work involved in zombies is just so fun!
Call of Duty: Black Ops Zombies and Personal Finance
You can't be selfish – Everyone has to be able to get enough kills to earn enough money. If someone keeps dying, everyone loses points (money). You also can't be the only person earning all of the money and expect to survive all the way to the later rounds. My brother does this all the time and it drives me nuts when he starts complaining that we "suck"…uhhh no, you just stole all of our kills and spent it all on the mystery box until you got your ray gun and thunder gun. Sheesh.
You need to save up – It's so easy to get tempted into buying everything all at once. In order to get to the higher levels, you will need to save money so you can get through the doors, get to the mystery box, and get your first perk, Juggernog. There are other perks too like Speed Cola, PHD Flopper, Quick Revive, Mule Kick, etc that will help boost your "powers" if you will. In order to get better guns, you have to hit the mystery box so save, save, save all your cash so you can get your items. You'll also need 5,000 to upgrade your guns later. If you die, say bye to your perks and guns and you'll be happy you saved some cash so you can start earning points again.
You need to plan ahead –
In the various maps, you have the same task – survive while killing zombies, but they get harder to kill and harder to control. Plan – you need to save money, then buy juggernog, then get your guns… this should last you a few rounds. If your teammates keep dying, get Quick Revive, and at this point I usually like getting claymores to place around the map along with better guns (my faves are the galil, commando, AUG and ray gun). Once that happens, split up with your team so hoards of zombies don't kill all of you at once. You'll then want to upgrade your gun when you get past level 20ish. I've upgraded sooner but sometimes I like to collect perks like the Flopper (explode when you jump) and Speed Cola (reload quicker).
You will need to invest – I know 2,500 seems like a lot of money to spend on juggernog. You may end up at 0 after this, but it will be worth it. Same goes for mystery box items and claymores. If you plant those claymores around the map you can run there when you have a ton of zombies following you, and the claymores will explode if the zombies step on them. Investing in a better gun will get you further as well, you can't expect to keep your handgun right? You're allowed to carry 2 guns so get the most bang for your buck by paying for the mystery box until you get your favorite guns. I sometimes spend thousands just to get my galil but it's so worth it!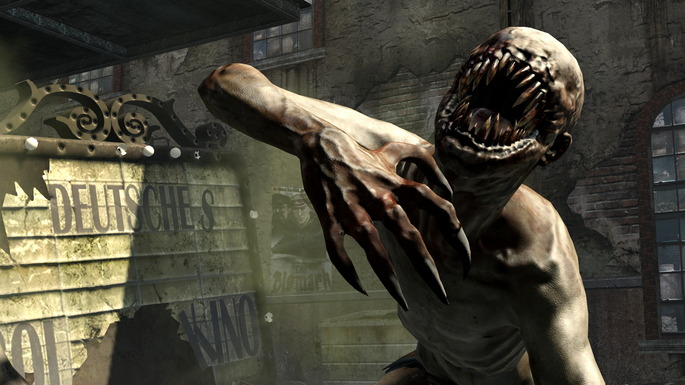 via (this is a crawling zombie!)
You need to work with your team (kind of like working together on your finances in a relationship): This is why it is important for everyone to have a mic or some way to talk to each other. My BF and I are always talking (during playing) about our plans and which way we are going to go (which door to open first) and where to camp out. I can't just go running off without knowing what he is doing because sometimes we need to make crawlers (zombies without legs that crawl on the ground) a the end of a level when all the zombies are gone so we can finish some objectives, turn on the electricity or buy guns without worrying about getting attacked.
You can't just bail out when it gets tough: If you're stuck in a corner and you die, you can't just bail out, especially if you are the host. This would end the game for everyone, which would result in major anger tantrums by the other players. It isn't a rule that you can't do this but it gets irritating if this happens a lot. You need to learn how to get out of the troubled situation (whether you're being swarmed by zombies in that corner or not), not run away from the zombies.
You have a responsibility: When you're playing with a team, you have a responsibility. It would be beneficial for everyone to have different types of upgraded guns (crossbow, thunder gun, ray gun) so that you can defeat the zombies as best as possible. Even though everyone wants a ray gun, it's probably not in the best interest of the whole team for that to happen. Coordinate with your team to try and figure out who should be doing what and most importantly, have fun!
Warning! This game is pretty graphic and of course has lots of shooting and violence. I don't recommend anyone under 18 to go out and buy this game, so do so at your own risk. My little brother is 15 and he has been playing these types of games since he was 12 or something and he seems pretty normal so I can't speak for the young guys in your life – they may already be playing this game. Also, I swear I'm not a teenage boy in real life.
Do any of you play this game or play games that teach you about money?