Happy Friday! I've been planning a multi-family vacation for our huge family, cousins and all, which will take place in July. If this was just a family vacation with my immediate family (mom, dad, brother, sister) it would have been a lot easier. I'm actually planning a vacation that will include 6 different families, and everyone has kids. In total, there are probably over 20 of us altogether.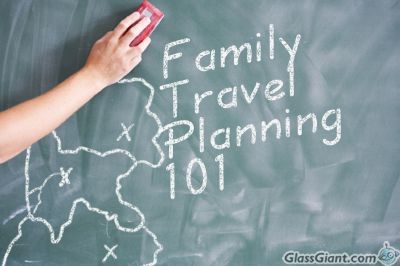 How appropriate is this picture?! via
Last year my mom planned our summer camping trip. It costed only $313 per family for the entire week. We set up tents at a military base campsite, and we cooked our own food. It was probably the best family vacation ever, and it was so cheap! We bonded over setting up tents, bonfires, cooking outside, boogie boarding, walking across the beach at night, watching DVDs, riding bikes, and tanning. The only electronics we had were our phones and a radio, which made it much easier to communicate with everyone, especially the younger kids. Unfortunately, this year, we are not going camping.
My mom and dad have been traveling with my siblings for club volleyball so they can't make it this year. Since my dad isn't going, we do not have access to the same campsite since he's the only military person in the family. The rest of the family decided that they didn't want to go camping at a public campsite, so I started an email chain which included all the parents and teenagers so we could start planning for our vacation.
This erupted into a huge planning frenzy, and let's just say I learned A LOT about this process. Next year I will be more prepared when approaching everyone to plan this beast of a vacation. Hopefully if you are ever in this situation, these tips will help you.
What You Shouldn't Do While Planning a Multi-Family Vacation:
Offer too many options
I made the mistake of telling everyone we could go camping, go to Disneyland, go to San Diego, etc. This brought up way too many different ideas and made it stressful.
Involve too many people
I cc'd basically the whole family, including the teenagers. This, of course, clogged up the email chain when I was looking for important emails. Sometimes people kept adding unnecessary opinions.
Make decisions on your own
My aunt kept on making decisions for everyone, which would result in others getting angry. She booked a beach house on the Central Coast, without consulting us all first. We ended up having her cancel that reservation.
Speak your mind
Don't just go with the flow if you have something else in mind. No one can read your mind. At one point, my cousin felt like the lodging was too expensive but she was just complaining about it to me. I told her to write an email out to the group to voice her opinions, otherwise no one would have known how she felt.
Do all the work on your own
With all group projects, it's not fun taking everything on by yourself. You'll end up feeling bitter and unhappy.
What You Should Do While Planning a Multi-Family Vacation:
Involve only the key players
Only involve the people that will be making the decisions. Including everyone in the planning process will just create more drama. You can tell all the kids and teenagers about the plans once everything is finalized.
Discuss the logistics first
Important matters must be brought up in the very beginning to avoid arguments. This includes - the dates of the trip, what type of vacation (relaxation, site-seeing, etc), what kind of climate, do you want to be in a city or suburb, etc.
Figure out what the budget is per family
This one is extremely important. A budget needs to be decided on. My aunt was going for 5-star hotels and fine dining while my cousin wanted something similar to last year's trip.
Find out what everyone wants to do
Do we want to be outdoors or in the hotel room more often? It's good to know if anyone has specific ideas or plans such as Disneyland or visiting a museum. You may not be able to fit in everything but at least objectives are all laid out.
Use each other's resources
I thought it was a great idea when my other cousin said he would check with his company for discounts at the hotel we decided on. We also are checking with my dad to get tickets to Disneyland at the military base. It's only 50 cents cheaper per ticket, but hey, we'll take it!
Communicate!
Like I said earlier, it's easy to get lost in the shuffle when there are so many people planning a trip. Staying open with each other will make it less stressful and you'll feel like you're on the same page. It would have been easier to just email everyone, but it was nice to call each other and text each other too so that we weren't miscommunicating through emails.
After an email chain filled with over 50 responses, we finally came to a conclusion and booked our hotel rooms. We ended up cutting a week-long vacation to a 4 day stay at a 4-star hotel. My parents were gracious enough to pay for our family's lodging, even though they won't be able to make it. We're going to check in on a Thursday, go to the pool and mall that day, and then go to Disneyland on a Friday. On Saturday we'll have a BBQ at the beach and have a bonfire that night. I'm really excited to go!
Do you have any other tips to add to my lists?